We are often asked, "Why do we need Pharmaceutical Feasibility Studies?".  In the development of a new drug, it is important to note that a feasibility study is probably the single most important consideration.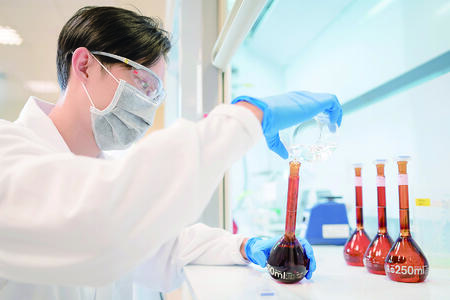 This is where, as your manufacturing partner, we begin to stress and optimize the formula, the process, the equipment train, and all the upfront variables that must be evaluated and confirmed.  Because development can present many challenges including issues with quality or inefficient processes, it is always necessary and in both party's interest to jointly develop a feasibility plan where the key processing parameters and steps are tested. This is an important first phase of any product or process development work you may be considering, for a new product or an existing drug.
A good feasibility plan should clearly state the objectives of the project.  It will consist of a series of experiments to ascertain what pre-existing issues may exist. The goal is to consistently manufacture and reproduce a quality product. For instance, if there are any potential issues, feasibility studies should seek to identify the critical processing factors that lead to an optimal outcome for your pharmaceutical product. Feasibility plans can take a variety of forms, but there are five key factors that need to be considered in any feasibility plan.
Five Key Factors to Consider When Developing a Feasibility Study Plan:
What excipients will be used?
What equipment will be used?
What is the probable process train?
What experiments should and will be performed?
What is the goal of these experiments and is there something we need to determine that could be a critical factor?
Feasibility studies dovetail nicely into the concept of Quality by Design (QbD) experiments.  You should approach your feasibility plans with QbD in mind.
What is Quality by Design (QbD)?
Quality by Design principles have been used to advance product and process quality in several industries including the automotive industry. It has been adopted by the USFDA in the discovery, development, and manufacture of drugs as outlined in its report "Pharmaceutical Quality for the 21st Century: A Risk-Based Approach." The FDA has implemented the concepts of QbD into its drug review process.  To mitigate risks, drug product owners need to have a thorough understanding of the process by which the product is developed, and the risks involved in manufactured the product.  If you are developing a pharmaceutical drug product, you need to develop a strategy to mitigate identified risks. Each set of experiments should challenge as many variables as possible and when correctly designed, a given set of experiments can challenge three, four, even five variables simultaneously.
What Steps Should be Followed for Quality by Design?
The QbD approach consists of the following steps:
Establish project design targets and goals
Determine the project needs
Determine the features of the drug that will meet those needs
Develop or redevelop the processes to produce the features
Develop process controls to be able to transfer the drug to operations
Statistical analysis should be applied before and after experiments. Before experiments, Design of Experiment can be used to identify the parameters to be tested. Sampling plan can be developed using ANSI/ASQ or ASTM standards. After experiments are performed, analysis of variance (ANOVA) can be used to measure the correlation between parameters and outcomes. Process Capability& Performance PpK analysis and calculating the Confidence Interval (CI) of the observed data can be used to understand and optimize the performance of the process.
Setting Clear Drug Development Objectives for a QbD Approach is Essential
It is of primary importance to ensure that everyone involved in an experiment is clear on its ultimate objective. Remember that the Active Pharmaceutical Ingredients (API) may be in short supply and expensive; minimizing its usage may be a critical concern. One needs to make sure that the analytical methods are fully developed and they can indicate the short term and long term stability.
It is essential to make and record visual observations at each juncture of the process. Written comments in the batch record and/or laboratory notebook can be suggestive of other issues present in the process, often indicating a change, of course, is needed in follow up experiments.  Therefore, be flexible in the design of your experiments as you may need to change course to avoid going down a wasteful and time-consuming path.
As each experiment is completed, the team should review visual observations, written comments, and the batch record itself.  Determine what worked, what did not work, and what modifications should be made to the next set of experiments.
Much like any great recipe, it is crucial to challenge what raw materials you use, vendors, grades of materials, and the way and order in which you add your materials in the process.  It can be helpful to vary quantities to understand their impact on both process and formulation: the physical properties of each raw material, the equipment itself and what both lend to the final product.
The goal should be to identify a good formulation and process within 10 to 15 sets of experiments to limit the time and cost.  And once you have a possible prototype, it is a good idea to test it with a small-scale batch.  Small scale feasibility studies can provide helpful feedback in optimizing key process parameters, such as drying times, tablet compression, coating, mixing speeds and times, weight, and thickness.  Lastly, put your formulation on accelerated stability to determine if your formulation and process are robust and produce the results you are looking for.