For superior controlled-release oral solid dosage forms
Wurster coating is one of the most recognized methods for developing effective controlled-release formulations as it enables a highly consistent coating of powders, granules, pellets, and micro-tablets.
The technology involves bottom-spray fluid bed coating of particles with appropriate actives, excipients, or polymers to modify the drug release.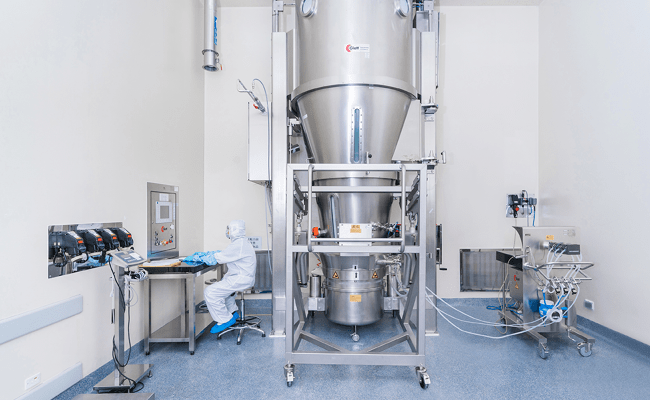 Expertise in scale-up to clinical and commercial
At Bora, we have the knowledge and experience to control variation and seek solutions to inevitable challenges encountered during a technology transfer. Our R&D teams perform rigorous lab-scale foundational work to understand the key process variables and their effects and apply these learnings to successfully scale up to clinical and commercial.
Our teams are adept not only at optimizing process parameters to achieve a stable formulation with the desired pharmacokinetic profile but also at reliably scaling up for larger-scale production.
Flexible capabilities to accommodate a broad range of drug products
Bora's Wurster coating offering can flexibly accommodate a wide range of controlled-release drug products and capacities – 6", 18", 32", and 46". The liquid spray used in our coating process can be a water or solvent-based solution, which offers additional flexibility to our clients. 
Looking for a trusted partner to bring your breakthrough drug successfully to the market?
Our team is here to discuss how you can gain competitive advantage by gearing Bora's rich and diverse manufacturing and packaging expertise towards your commercial success.